Mochi (pounded rice cake)
Why do locals of Ichinoseki and Hiraizumi eat mochi?
Mochi might remind us of New Year celebrations, but not in Ichinoseki and Hiraizumi. According to the local, age-old "mochi calendar," here people pounded rice to make mochi for important agricultural events such as the rice-paddy planting and harvest seasons, for school enrollment and graduation ceremonies, and for funerals, weddings and all kinds of festivals. In fact, the calendar shows that people make mochi on over 60 days a year, meaning the locals have always shared their joy or sorrow, making and eating mochi together. To them, mochi is absolutely essential, almost part of the family.
So, how did this mochi culture come about? The key lies in the Edo Period. The Date Clan who ruled Ichinoseki back then ordered that people take a day off on the first and 15th day of every month, pound rice and offer it to the gods to pray for peace and safety. In reality however, the poor farmers were eating "shiina-mochi," a mochi made from rice scraps and unsavory grains, while offering proper white-rice mochi to the gods. The farmers needed to create tricks to make the unsavory mochi somehow more palatable, and that's how the unique mochi culture bloomed.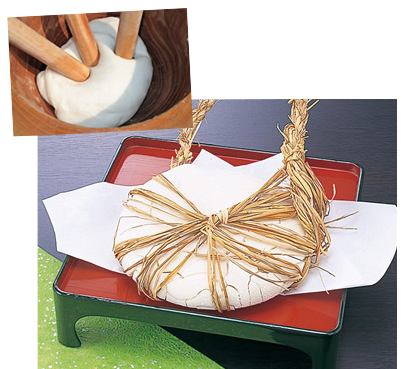 Many varieties, not just sweet bean paste and soy flour
The passion for mochi that continued to escalate from the Edo Period led to over 300 ways of serving mochi. Examples include using plant-based ingredients such as sweet red-bean paste, sesame seeds, soy flour, sweet soy bean paste, pumpkins and natto (fermented soybeans), to marsh shrimps and weather loaches. Some you have never seen; for instance, "June," which is grated flaxseeds and tastes like walnuts and sesame. Another one is "fusube," or grilled weather loaches and grated burdock roots flavored with soy sauce and sprinkled with chili powder, which is more for adults. Today most people are said to use minced chicken instead of loaches.
Mochi culture evolution doesn't stop there. There are mochi fondue, which goes extremely well with cheese; mochi cabbage rolls; and bell peppers filled with mochi, and even mochi parfait. Edo Period people would never have imagined ideas like these!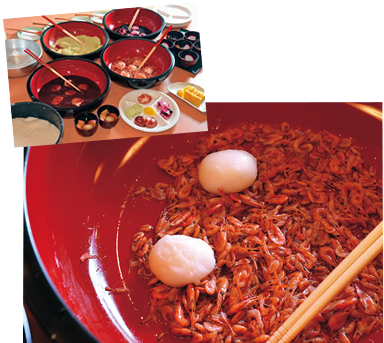 How to enjoy mochi
the right way
Mochi Honzen, a mochi course meal, is served on formal occasions such as weddings and Buddhist ceremonies. Mochi with sweet red bean paste, mochi stew, cooked mochi, grated daikon radish and radish pickles will be brought in on a tray. The ingredients vary by the occasion. For instance, mochi with natto (sticky fermented soybeans with sticky strings) is a no-no for funerals because "the strings bring in similar (bad) luck." There are certain ingredients that are okay or not, depending on the context of the occasion, but the etiquette for eating mochi is the same.
The proper way: first, start with the grated daikon radish. Then, have the sweet red bean mochi first. Make sure to leave one piece of the radish pickle untouched and finish the meal with the stew. Why must you leave one piece of pickle untouched? Because at the end of the meal you'll be served hot water to clean your bowl, and you need the piece of pickle to "purify" the bowl. There is also a traditional rule for requesting a filling, which is still maintained today. You can ask for another red bean mochi and mochi stew, but not nouveau mochi like walnut mochi or ginger mochi.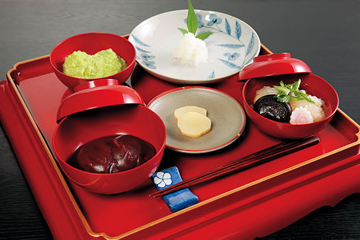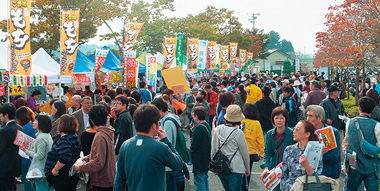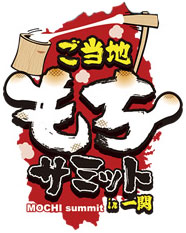 Gotochi Mochi Summit in IchinosekiThis mochi event started in 2012 and offers not just traditional mochi dishes (with sweet red bean paste, ginger, or stews), but a whole array of mochis from all over Japan. Examples include nouveau-mochi dishes like cooked mochi to mochi croquettes, and even mochi sweets such as mochi puddings and crepes. Watch out for some surprises! The heat will be on for the "mochi battle" in Ichinoseki, the Mecca of mochi.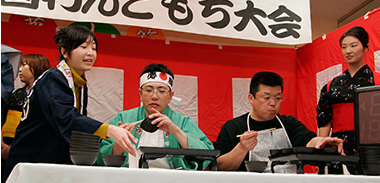 National Wanko Mochi CompetitionIwate's Wanko-Soba contest is a famous soba competition (competitors see how many bowls of buckwheat noodles they can down), but this is a "Wanko-mochi" competition, an event unique to Ichinoseki and an opportunity for the city to promote its mochi culture. People can enter the competition as pairs or individuals and see how many bowls of bite-sized mochi they can down in five minutes. Attracting mochi competitors from Iwate and beyond, the battle gets quite heated. If you're confident about eating a lot of mochi, just love mochi more than anything else, want to break the record, or you don't want to enter but you just want to witness some scenes of horror, come and join the fun!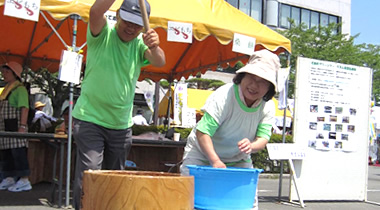 Hanaizumi Summer Festival / Japan's Best Mochi (rice cake) Pounding FestivalThe mochi-pounding event takes place as the main event of the Hanaizumi Summer Festival. Every year about 20 groups take part and demonstrate traditional mochi-pounding, using mallets and mortars. The teams ramp up the excitement with their costumes and original performances, and compete for the Grand Prix Prize with their own unique mochi dishes. There are as many as over 50 mochi dishes proudly presented by the participants, which are served for free to visitors as a way to enjoy Hanaizumi's wide array of flavors.