Mt. Kurikoma

Much loved by locals and also long known as Mt. Sukawa on the Iwate side, the 1,626-m Mt. Kurikoma sprawls across the borders of Iwate, Miyagi and Akita prefectures.
One of the great things about this mountain is its multitude of hiking routes. There's a beginner's route that only takes about 1.5 hours to the summit, to more advanced tracks with many difficult spots that go through old-growth forests and take over 5 hours to complete. Choose from more than 5 routes that match your skill level.
That's why the mountain is great if this is your first mountain-hiking. It's gentle enough for anyone young or old to hike safely. Once you step onto the mountain, you'll be surrounded with amazing natural scenes, from delicate highland plants to autumn leaves, to the Jigokugama crater and Nagorigahara plain. There's a strange power about Mt. Kurikoma that makes visitors want to come back for more.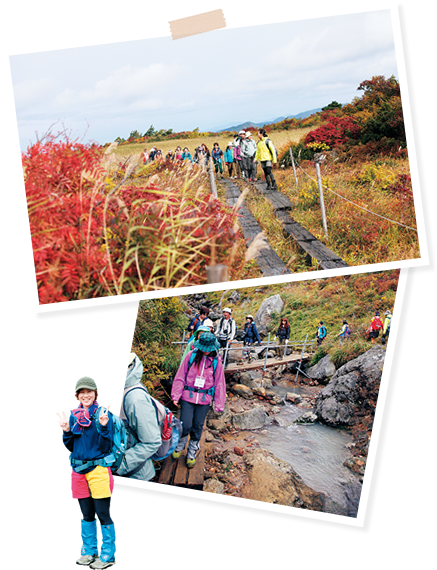 The Ubunuma marsh route for beginners to intermediates is full of scenic spots, so don't forget your camera. As you head from the hot spring source of Sukawa Highland to the Zettasawa route, you'll soon arrive at a viewing point. Here's where you'll get the entire view of the Nagorigahara plain, blanketed with highland plants including Japanese hyacinth, mayflowers, gaultheria and hare's-tail cottongrass.
Continuing on from Taikadai to Ubunuma through Zettasawa, you'll encounter the Sanzuno-kawa River about half way along. As you walk on, there are quite a few very steep spots such as Shikuhakku-zaka Slope. Make sure not to slip. On the way to Ubunuma, you'll see a rich variety of plants such as narthecium, which makes the long hike all the more worthwhile.
Heading towards Ubunuma, take a break and watch the natural landscape reflecting in the shallow marsh. On reaching Ubunuma, you're half way there. It is best to take a break here as there's a series of steep slopes ahead, just below the summit.
Keep walking from Ubunuma to the Yamabushi ridge, just short of the summit. Suddenly, you're on an enormous open space, a refreshing change. In the autumn, the route to the summit is a scene rich in fiery autumn colors. Reaching the summit rewards you with the panoramic view of Mt. Chokai, the Zao mountain range, Mt. Gassan and the Yakeishi mountain range. Give your best smile for the camera!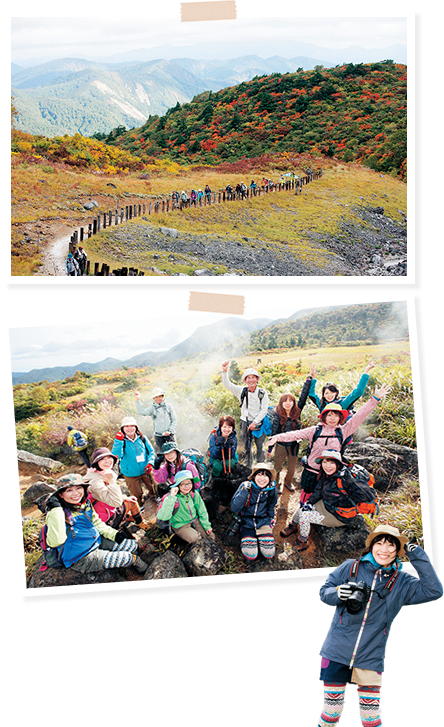 Bodies tired from the hike will feel better with a visit to the Sukawa Highland hot spring. It's a strongly acidic alum hot spring with 6,000 liters of hot water gushing out every minute, said to be effective for rheumatoid arthritis and chronic poisoning. If you're an outdoorsy girl, why not visit this hot spring as a treat, nourishing your muscles and skin together? First off, relax and dip your feet in the free foot-bath, where hot water trickles from the spring's source.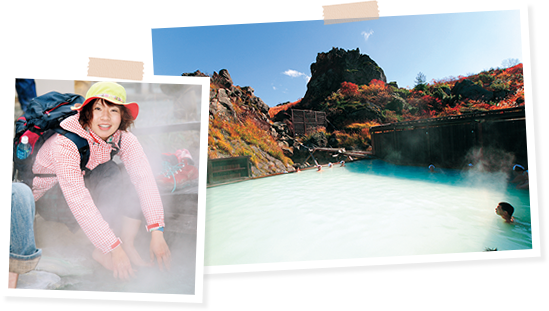 Things to remember when you go mountain hiking
Things you need and be careful about when taking a mountain hike
1.
Wear long boots or climbing boots
2.
Bring rainwear, a long-sleeve shirt, portable food and water
3
Pay attention to residual snow in spring and early summer, thunderstorms and fog in summer, and sudden changes of weather in autumn.
4
Bring a portable toilet
5
Do not deviate from the hiking route
6
Do not pick up animals or plants
7
Take your rubbish with you
Check your belongingsAre you
fully
prepared?
To wear
Hat (cap)
Long-sleeve shirt
Underwear
Bottom wear
Socks
Thermal wear
Climbing boots
Backpack
*Best to avoid cotton products as they absorb sweat and sap your energy.
Climbing goods
Maps
Watch
Camera
On-the-go food
Drinking water
Plastic bags
Sunscreen
Medicine
Rainwear
Towel / wipes
For emergencies
Emergency food
First-aid kit
Matches, lighters