Genbikei
Dynamic art of changing seasons
A deep, mysterious gorge carved out through the ages by the deep emerald green stream.
Welcome to the mythical world of Genbikei Gorge,
sculpted by nature and vibrant with the different colors of every season.
Carved out over aeons by the Iwai River as it runs from Mt.
Kurikoma and through the town of Ichinoseki,
Genbikei, or Genbi Gorge, is one of Japan's most scenic natural monuments.
Lining a 2-km stretch of the emerald-green stream are oddly shaped and gigantic boulders,
potholes, abysses and waterfalls,
offering astoundingly beautiful scenery that's both calm and dynamic.
In springtime, light-pink cherry blossoms adorn the gorge.
Summer sees the scenery slide into a rich green,
followed by burning orange and red in autumn, and a majestic snowscape in winter.
Awed by the overwhelming beauty the gorge displayed each season, according to legend,
Masamune Date, lord of the Sendai Clan,
said that Matsushima and Genbi Gorge were the Sendai territory's two most beautiful spots.
Only about 20 minutes by car from JR Ichinoseki Station and with over 1 million visitors a year,
Genbikei is the Ichinoseki area's most popular sightseeing spot.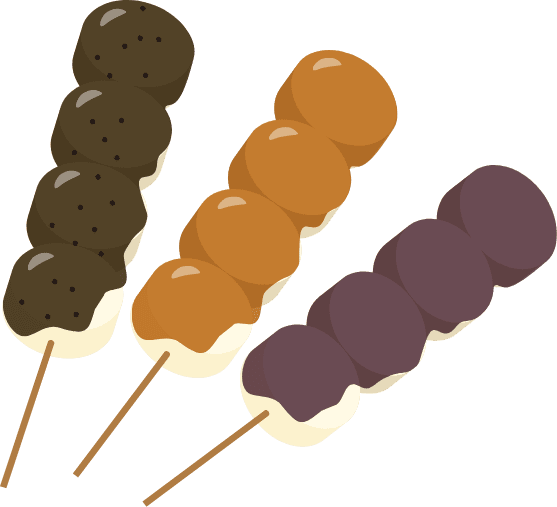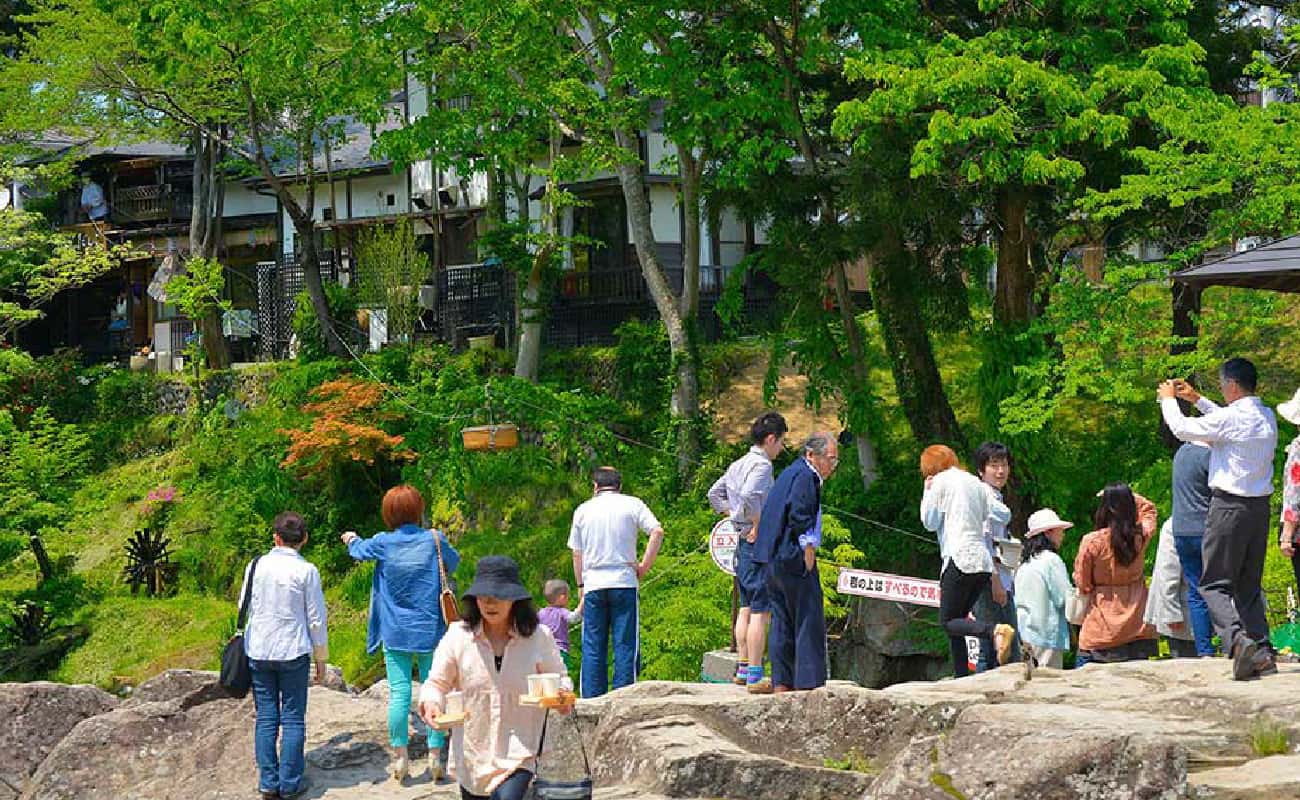 Takimi Dango ("waterfall-view dumplings") serves dumplings that are assembled and chopped into small pieces with a piece of string. This popular dango has a distinctive fluffy texture thanks to the locally produced Sasanishiki rice. The special nori seaweed and sweetened soy sauce flavor is unique to here. Meanwhile, if you want to try "Kakko Dango," and their flying dumplings, put some money in the basket in the gazebo and bang on the panel with the wooden mallet. You'll then see the dango and tea flying in from the store across the river. Also, drop in to "Itsukushi Dango," a dango shop that serves various café items including coffee and sweets. Here you can pick out some souvenirs or enjoy a break. Why not hop from one store to another to see which one you like most?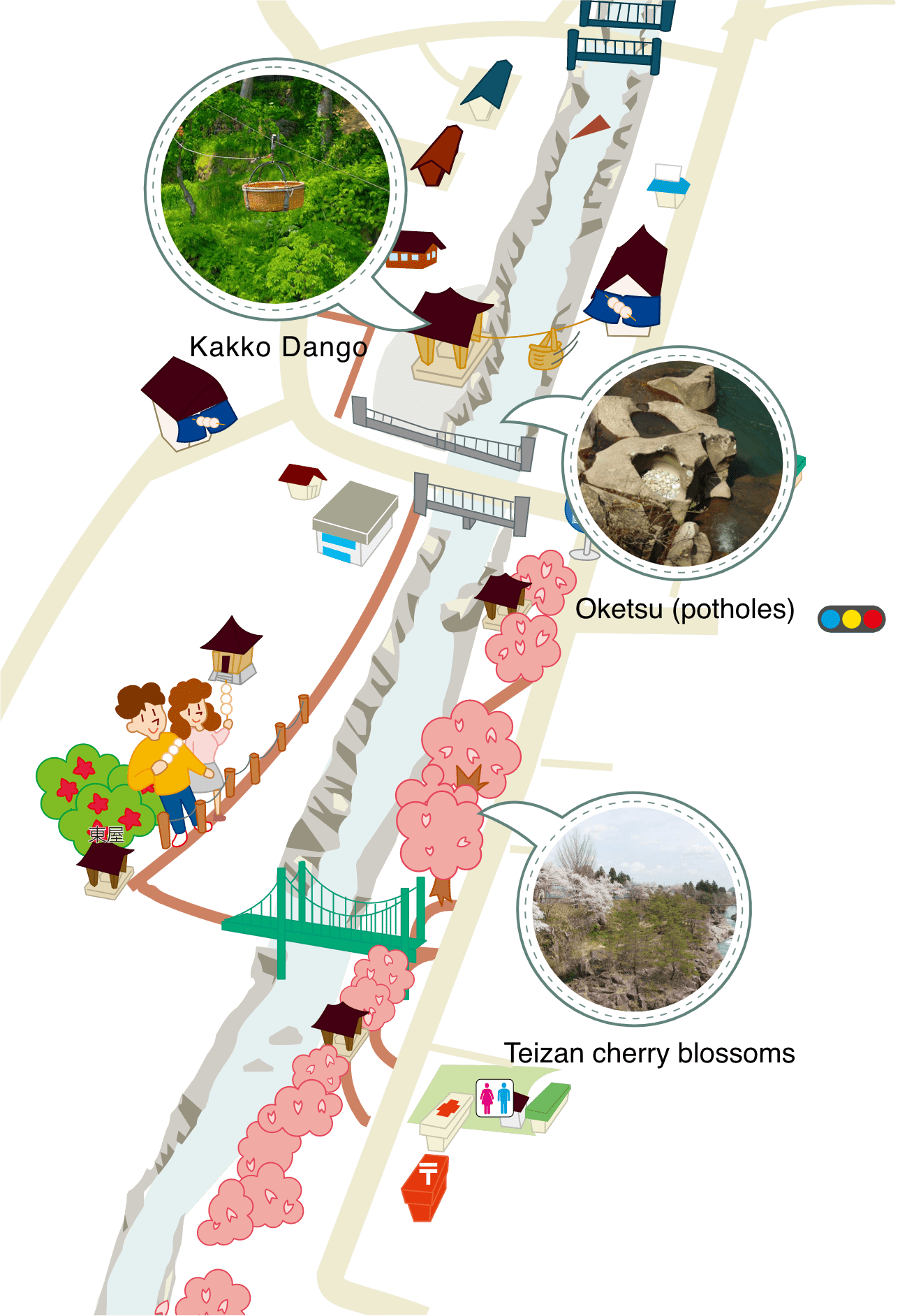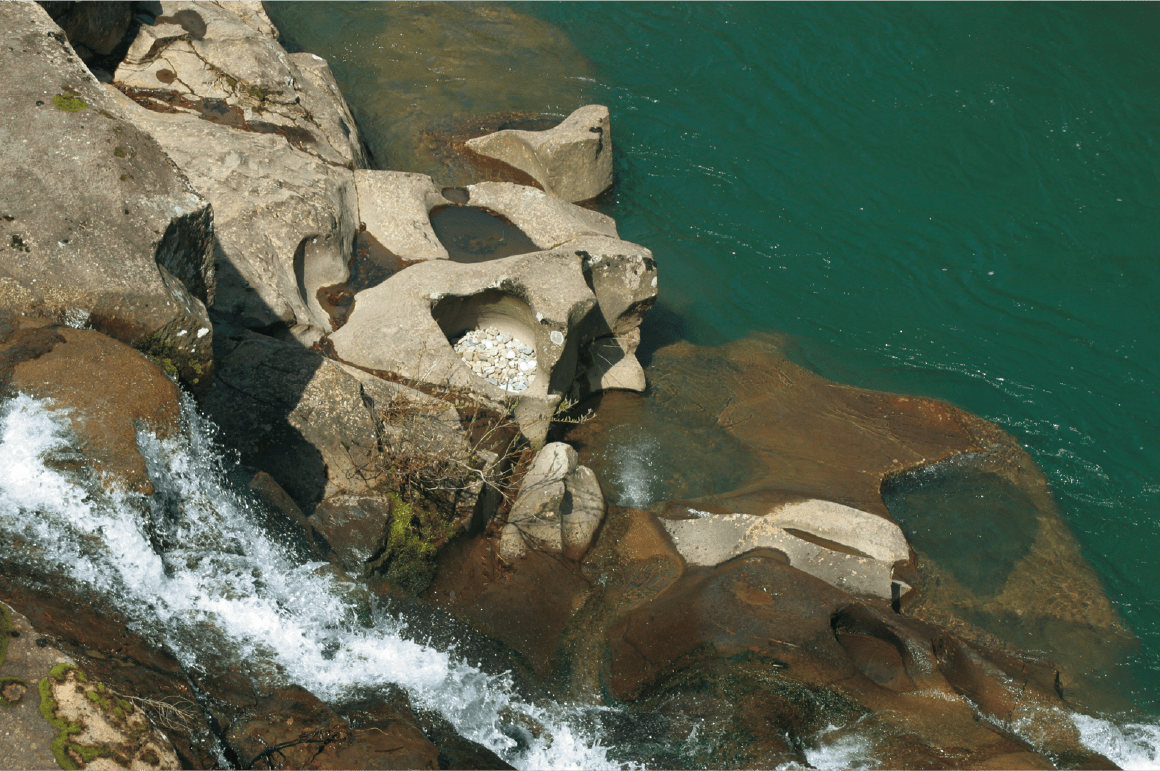 Oketsu (potholes)
Oketsu, or potholes, are round holes in gigantic rocks, drilled by swirling particles of sand and gravel from the river as it travels downstream. Over the years the stream eroded the bottom of the river, revealing rocks that used to be underwater. Genbikei Gorge's gigantic rocks are made of dacitic tuff, born in the eruption of Mt. Kurikoma. A creation of nature over millions of years, this geological treasure is an amazingly beautiful place.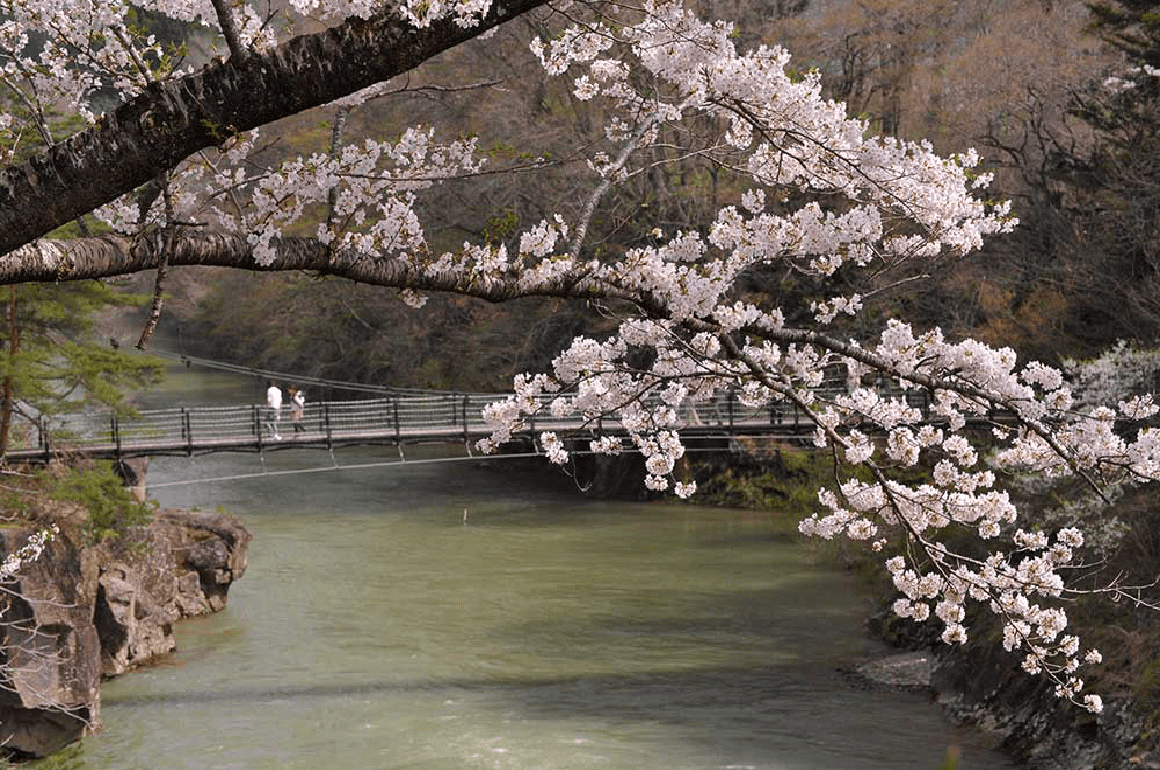 Goranba Bridge
Of all the bridges spanning the Genbikei Gorge—Chojataki Bridge, Tengu Bridge, Goranba Bridge, and Suzufuri Bridge—Goranba Bridge is the only suspension bridge. In spring, the gorge is adorned with Teizan cherry blossoms in full bloom, trees said to have been planted by Masamune Date, lord of the Sendai Clan. Gaze upstream from the bridge and you'll catch dramatic scenery of bizarre and gigantic rocks, while the view downstream is of the serene landscape of the deep river. The suspension bridge is indeed full of suspense—as you'll discover when it rocks unsettlingly with every step you take!

Genbikei is easy to reach from downtown Ichinoseki,
being only 8 minutes by car from Ichinoseki Interchange,
and 20 minutes from JR Ichinoseki Station.
It's just 35 minutes by car to Geibikei Gorge, where you can enjoy boating,
and 15 minutes to the World Heritage site Chuson-ji Temple and Motsu-ji Temple,
so you plan your travels any way you want.