Geibikei Gorge in winter drops
you into the world of an ancient ink painting
Snow settles silently on tree branches on both banks of the gorge,
creating the illusion of being in an ancient ink painting.
Many people love Geibikei in the winter,
some claiming it's the best season.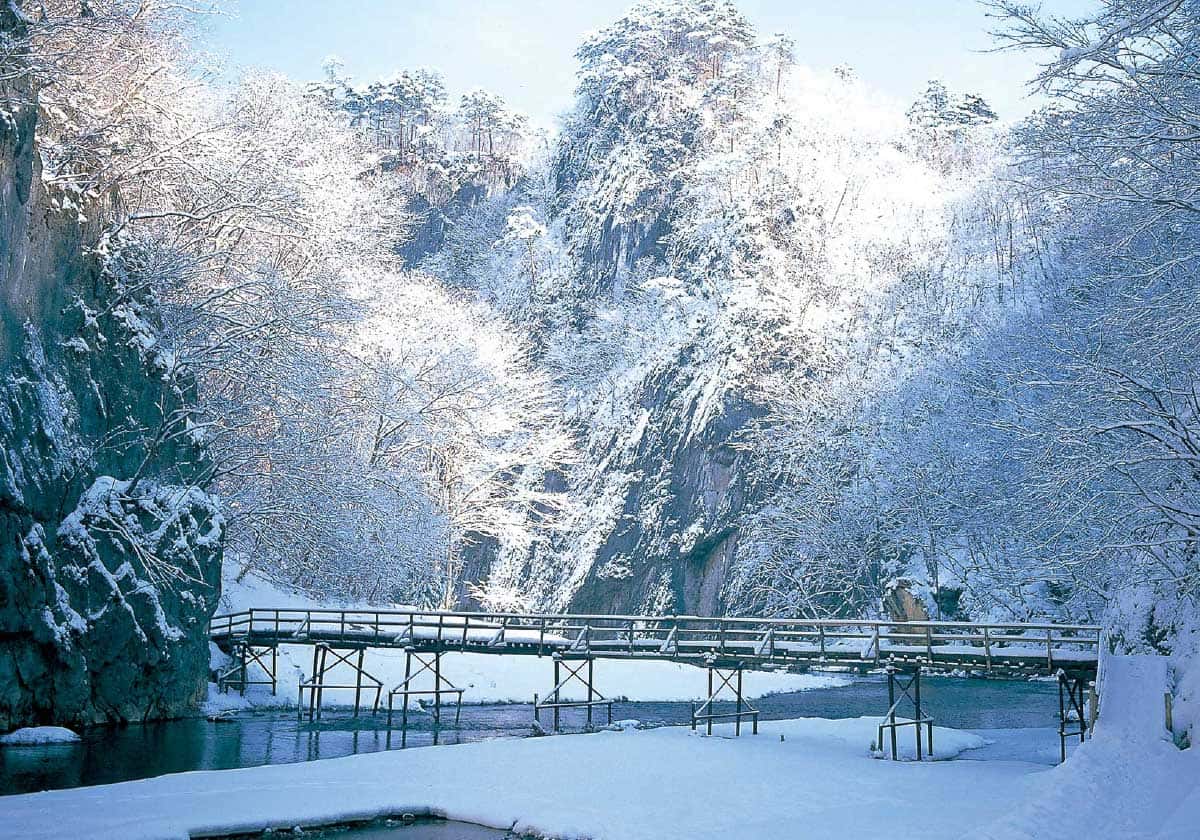 Geibikei in winter
Famed as one of the 100 best sceneries of Japan, Geibikei Gorge presents a different face every season. In winter, you can immerse yourself in the majestic snowscape in a roofed kotatsubune (boat equipped with a heated table covered in a quilt), while savoring some famous kinagashinabe, a hot pot loggers used to eat in the winter, full of vegetables and mountain herbs, chicken and pork stewed in miso. A true escape from reality, the only sounds you hear will be the boatman's pole sliding over the water surface and his voice as he proudly sings Geibi Oiwake ballads.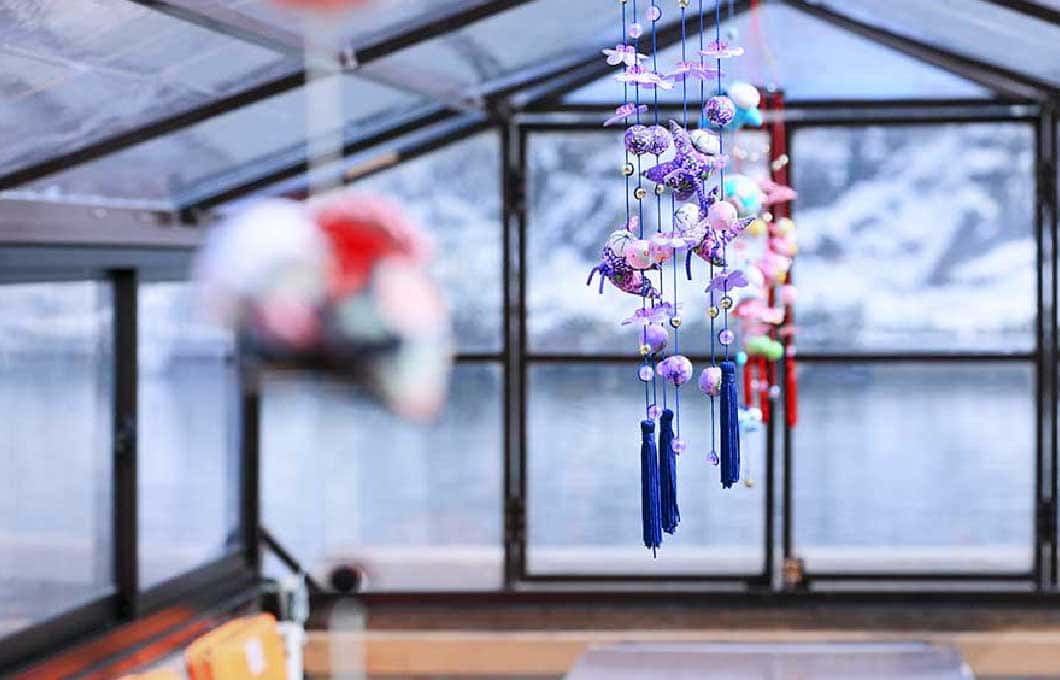 Hinamatsuri ("girls' festival") boating
From mid-February to March 3, the boats will have girls' festival decorations hanging from the ceiling. On March 3, the festival day, free amazake (chunky rice sake) is offered to passengers. You'll discover the festival dolls near the reception desk too.

Winters in Iwate are a little chilly. If you aren't too keen on going out, we recommend visiting museums. It kills two birds with one stone as you'll learn all about Ichinoseki!

Kenji and Stone Museum
Iwate-born poet and children's book writer Kenji Miyazawa was not just a great author but also an expert on geology. Since he worked as an engineer at the Tohoku Stone-Crushing Plant which used to be in Higashiyama, Ichinoseki City, the museum was built near the former plant site. Miyazawa fans will totally love the museum, as it's chock-full of priceless paraphernalia and photos of Miyazawa with friends.

Ichinoseki City Museum
This museum is where you can easily trace the history and culture of Ichinoseki. The museum includes displays of Mokusato, the swords that used to be crafted in Tohoku and became the prototype of traditional warrior swords, as well as panels and objects that illustrate the achievements of Ichinoseki's representative rangaku ("Dutch and western studies") scholar Gentaku Otsuki, and his grandson and Japanese linguist Fumihiko Otsuki. It's all part of Ichinoseki's lesser-known but important culture.

Tozan Washi Kamisuki-Kan (Japanese papercraft museum)
This humble museum is on the second floor of a building that used to be an elementary school until 2012, and showcases tools people used every day and in farming in 1940–50s.

Tozan Ashi Memorial Museum
The museum displays the achievements and materials on Tozan Ashi, the Confucianist scholar from Shibutami, Daito-cho Town, and the author of "Mukeiroku," his book that discussed the principles of Japan's concept of criminal law.

Senmaya Sakenokura Exchange Facility
This is the residence of the Sato Family, who ran the former Yokoya Shuzo ("Yokoya Sake Brewery"). It is a tangible national cultural property. Built between the Meiji to Taisho Periods (1868-1926), the building oozes the romantic atmosphere of the times. The residence also hosts a hinamatsuri ("girls' festival") in February.

Sekinoichi Sake Ethnic Culture Museum
Visitors can learn about the traditional sake brewing process as well as visit the "storehouse of literature," which talks about Hisashi Inoue, Toson Shimazaki and other writers connected to Ichinoseki.

Ichinoseki is a city alive with events! Have a great time at this winter's many festivals.

Senmaya Hinamatsuri Festival
Centered around the Senmaya Sakenokura Exchange Facility, resplendent in Taisho Period's romantic atmosphere, the main street of Senmaya is adorned with countless hinamatsuri (March 3 girls' festival) dolls including those of the Edo and Kyoho Period styles, dolls set on over 30 steps, and hanging dolls that were hand-sewn stitch by stitch.

Ichinoseki Daito Ohara Water Festival
With its origins dating back to the Edo Period (1603-1868), this traditional festival sees people dashing down the street while onlookers splash them with buckets of icy-cold water, wishing them a year of no illness, fire, accidents or disasters as well as safety at home. As this festival takes place in the coldest month of February, it's also commonly called "the most bizarre festival under the sun."

Honederamura rice-offering ritual for Chuson-ji Temple
Honederamura Village Estate Site used to be an aristocrat's estate, and was later donated to Chuson-ji Temple to generate funds to manage the temple's resources. This ritual, solemn and high-spirited at the same time, embodies the strong century-old relationship between the estate and the temple.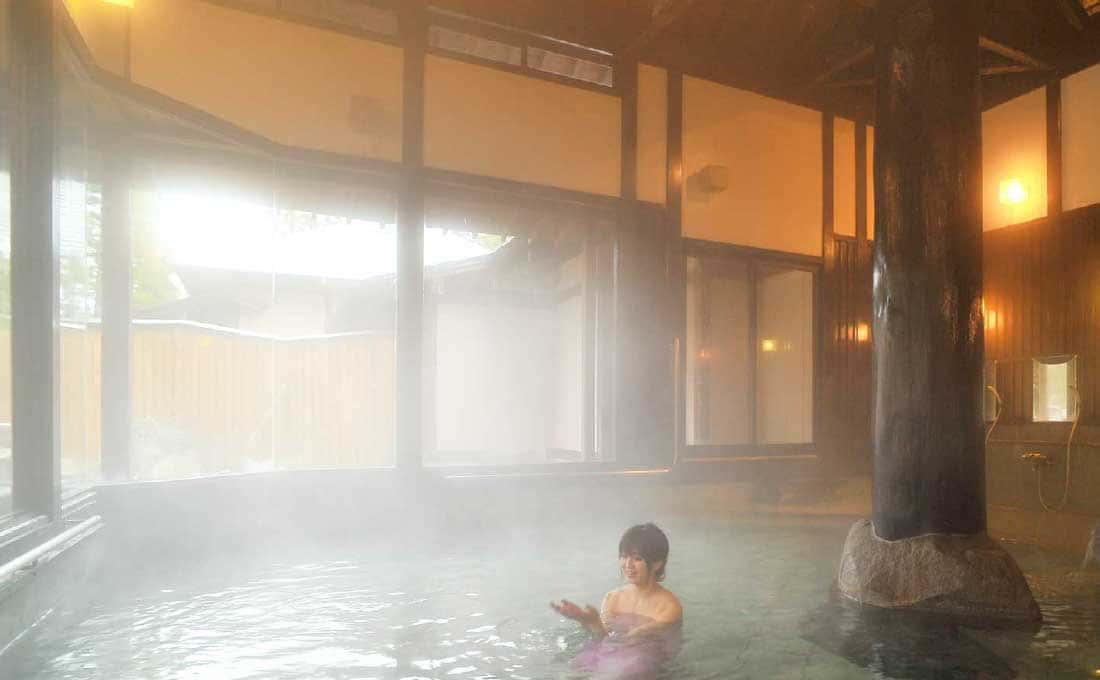 Winter fun:
Ichinoseki's onsen town
Ichinoseki Onsenkyo is the collective name for the district of hot springs found along route 342. The hot springs draw their water from different sources with different water qualities, making it a magnet for onsen fans.